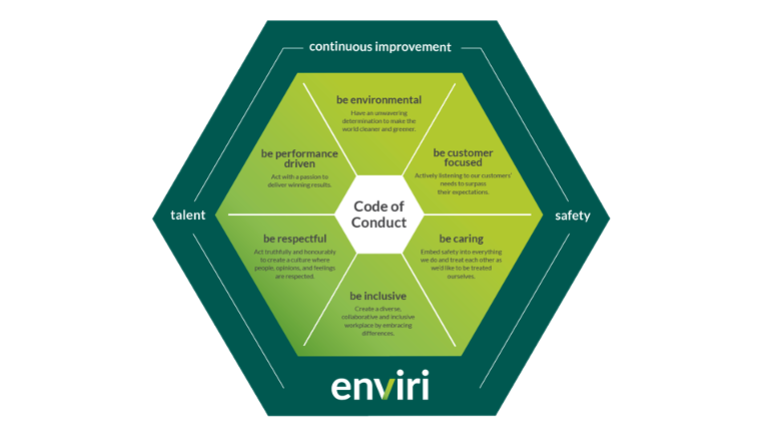 The announcement of the Enviri Business Systems expansion, a workforce-focused plan, aims to standardize safety practices across diverse geographical and cultural landscapes and puts a premium on reducing the number of workplace injuries.
While the recent corporate rebranding has given it a fresh name, the importance of a comprehensive safety system remains at our forefront, ensuring our processes and procedures are consistent across all business domains.
The Enviri Business System, comprised of Safety, Continuous Improvement, and Talent Management, is the cornerstone of our operational effectiveness and efficiency throughout our various business sectors.
Expanding the Enviri business systems has fostered a safety culture, as highlighted in our 2022 Environmental, Social, and Governance report. In 2022, Harsco Environmental reported an impressive Total Recordable Incident Rate ("TRIR") of 0.45, surpassing the target of 0.62 by an impressive 27 percent, a noteworthy achievement in an industry known for its occupational hazards. In 2022, Clean Earth Launched the Visible Felt Leadership Program to instill accountability and empower employees to make the proper safety decisions, slightly decreasing the number of recordable injuries while significantly decreasing Long-Term Reportable Injuries (LTIR) by 30%.
Safety is an integral component of Enviri's core values, prominently embodied in our 'be caring' ethos, where we place paramount importance on weaving security seamlessly into all aspects of our operations. Safety isn't just a mere concept; it's an intrinsic element of our Be Caring value. The business system stands as a testament to Enviri's unwavering dedication to fostering and perpetuating a culture where the sole and non-negotiable objective is ensuring the safe return of our employees to their homes.